42 year old Ms. Grace Wangeci Kinyanjui died sometime on Saturday morning June 3rd at the home of her friend. British national and businessman, Mr. Richard Alden. This much is not in dispute.
What is in dispute however is the manner in which she died. Was it cold blooded murder or was it a horrible accident as claimed by Mr. Alden's attorney?
Sometime on Saturday morning, Ms. Grace Wangeci Kinyanjui showed up at Mr. Alden's residence to help him park for a trip to Nanyuki where he had a piece of land and it seems was planning on relocating. At the Alden residence in the affluent Nairobi suburb of Karen was the House help and  security guards.
"We suddenly heard a gunshot and a few moments later Mr. Alden was dragging the lifeless body of Ms. Grace Wangeci Kinyanjui into his vehicle and drive off." said the guards at his house
He would show up at the Karen hospital a few kilometers away but Ms. Grace was pronounced dead by the doctors at the hospital. On seeing the state of Ms. Grace Wangeci Kinyanjui's body, the hospital staff called police who quickly put Mr. Alden under arrest and charged him with murder.
According to Karen Nairobi police boss Japheth Koome, the suspect was held after a physical examination showed Ms. Grace Wangechi Kinyanjui's body had visible injuries that strongly indicated the presence of foul play.
The bullet entered on the back of her head, showed the exam.
Three open wounds were visible from the left side of her neck
Her left thumb and ring finger were fractured.
Stab wounds on her Back.
"At the time of the incident they were the only people in the house. We were also able to recover a blood stained towel as well as a spent cartridge from a glock pistol and 34 live ammunition in the dressing room where the murder took place. It is murder and he is in custody for that," said Koome.
As emphatic as the police chief was in this statement one would think that this would be the end of the story. Far from it!
When Mr Alden was presented in court on Monday June 5th his lawyer claimed that Ms. Grace Wangeci Kinyanjui had actually accidentally shot herself while taking a selfie with the loaded gun
Outside court Mr Alden's lawyer Evans Monari refuted the murder  allegation.
"She was taking selfies and the gun went off. The girl shot herself by accident," he said. "Those other injuries don't exist. The injury in the back is an exit wound, not an entry.
"The maid was somewhere in the compound and she heard a shot. She didn't hear any commotion. They were talking and laughing." Mr Monari said police would be able to find the selfies on the mobile phone.
In court he told the judge: "The respondent is very disturbed by what happened because the person who lost her life is a friend.
"She actually shot herself. There is no evidence to date that the accused played any part in what happened," he said.
Making a bail application, he added: "Richard Alden is innocent until such time that he has been proven guilty. He has been vilified in social media and local and international press."
Police requested to have 10 more working days to finish their investigation but senior resident magistrate Charles Ondieki asked for the case to be brought back to court on Friday.
Mr Alden was denied bail and will be held in a police station cell.
In court Mr Alden, wearing a navy blazer and blue shirt, was silent and stood looking down with his hands holding onto a bar in front of him.
His French wife Martine, who flew into Nairobi from London earlier in the morning, sat in the public gallery, visibly upset.
Police have alleged Mr Alden and Ms Kinyanjui, who ran a security firm, were in a relationship.
A family friend however said Mr Alden was living with his wife and Ms Kinyanjui was just a family friend.
It is understood the pair met through a local hiking group and had both taken part in a marathon at the Lewa Conservancy in June 2015.
The results of a post-mortem and a ballistic examination will be announced in court on Friday.
This selfie theory might seem far fetched to many Kenyans but it is actually a very common occurrence nowadays.
Last year a story from Mashable about More people having died from selfies than shark attacks went viral. So priceconomics.com a web based research company did some research on this phenomenon and the results are shocking.
Selfie related Deaths
They went through three years of news archives, compiling every reported instance of a selfie-related death (that is, a death that was precipitated by taking a selfie). They found that since 2014, 49 people have died while attempting to photograph themselves; the average age of the victims was 21 years old, with 75% of them being male and females being 25%.
Though women take significantly more selfies than men, 36 of the 49 selfie-related fatality victims were male. Studies have proven that men are two times more likely to take recreational risks than women are, even when it comes to selfies.
Researchers at Ohio State University found that men who frequently post selfies score significantly higher in the traits of "narcissism" and "psychopathy" in personality tests. As a result, when these men take a selfie, they brush off potential dangers in favor of validation and personal gain.
"It's all about me. It's putting me in the frame. I'm getting attention and when I post that to social media, I'm getting the confirmation that I need from other people that I'm awesome,"says lead researcher Jesse Fox. "You're not thinking about the consequences of your actions, so who cares if you're dangling off the side of the Eiffel Tower?"
Examples of Selfie Related Deaths
 In late August of 2015, for example, a 25 year-old man Chinese man

ventured

off-trail to snap a selfie at the top of Long Men waterfall in eastern China. Distracted by the camera, he took a misstep and plunged 100 feet down into a ravine, where he died instantly. When authorities recovered his body several days later, his selfie stick-mounted phone

 

— still intact

 

— contained a picture of him in the process of falling.
2. The following month, a 17 year-old Russian student climbed a nine-story building near Moscow, and hung off the ledge to make it appear as if he were falling. He intended to capture the "ultimate" selfie for his Instagram page; instead, his hand slipped, and he fell to his death. Just weeks earlier, he'd posted a similar image of himself in a precarious position: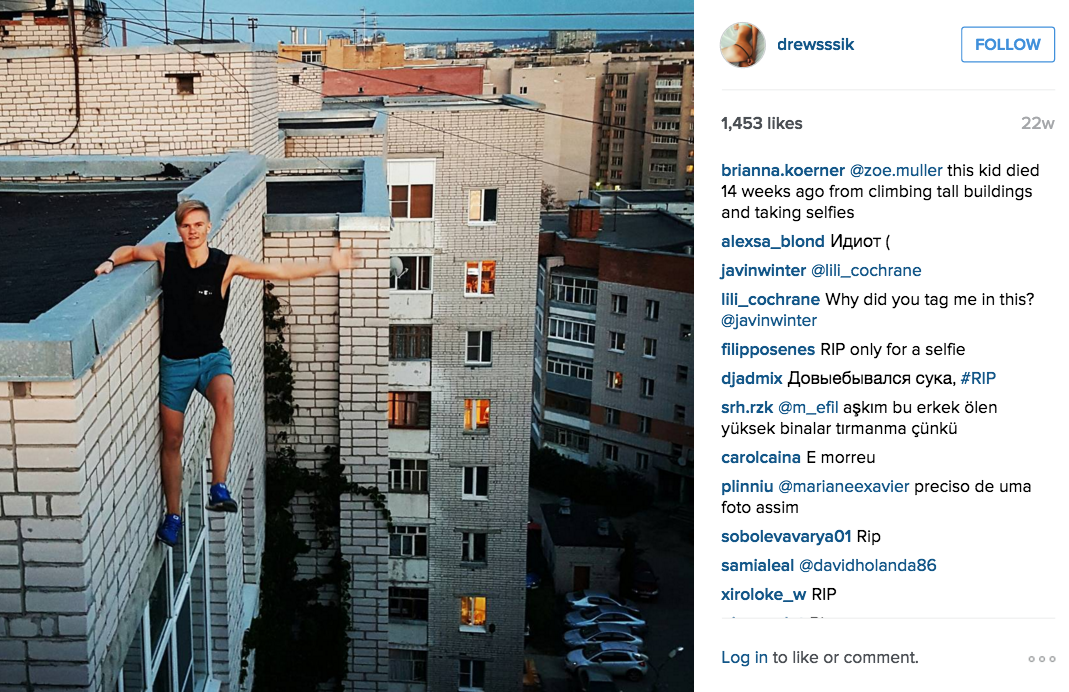 Via Instagram (Drewssik)
3.  A 19 year-old girl stumbled off of a 20-story building in the Philippines while taking a selfie; she died on impact. "She was not satisfied with the photos we had taken [of her]," her classmate later told a local paper, "so she decided to climb up and take her own."
4.  In march of 2014, a young man posed for a selfie atop a boxcar. Diverted, he was unaware of the  35,000-volt livewire just beside him. When he stepped on it, he was instantly killed. Weeks later, a nearly identical incident occurred in Kerala, India. 
5.  Three 20-year-old college students were killed last January after attempting to "play daredevil" with on oncoming train in India. According to a friend who bailed out at the last minute, the men were hoping to capture a selfie that would get them "many likes" on social networking sites.
6.   A 21-year-old Mexican man accidentally shot himself in the head while taking a selfie with a gun.
7.   A Cessna pilot  crashed, killing both himself and a passenger, after his cellphone selfies led him to lose control of the aircraft.
8.   Two Russian teens blew themselves up while posing for a selfie with a live grenade in the Ural Mountains. 
9.    A man who attempted a selfie at the running of the bulls festival in Spain and was fatally gored in the neck.
We will actually probably never know what happened Ms. Grace Wangeci Kinyanjui on that fateful morning. As a Kenyan, I have come to trust Kenyan Police Investigative capability less and less.
Was it Murder or was it a selfie related death for Ms. Grace Wangeci Kinyanjui? Please let us know what you think by sharing your comments below and keep the discussion going.